Seeking Evidence on Open Scholarship: ICOR's research-on-research initiative
Highlights of our inaugural public meeting, 5.17.23
Register for the next ICOR Public Meeting on July 20, 2023, 10:30am-12:00pm ET.
Agenda and other details to come.
---
The context
Incentivizing Collaborative and Open Research (ICOR) is a community initiative conducting research on collaboration and open scholarship, partnering with real world projects and implementations as they operate. ICOR has also begun to build a library of projects, evidence, and best practices (described here) that challenge the status quo of closed research by offering practical, real-life solutions. We seek to bring together individuals who share these goals to make connections, help implement, share results, and present to funders and research organizations a unified approach to problem solving.
The focus of our inaugural public meeting on May 17th was to introduce the need for evidence that open scholarship, and its enabling tools and processes, can lead to faster, more reproducible and innovative outcomes. Invited speakers and a diverse audience of 90 funders, practitioners, academic leaders, librarians and policy makers engaged in a lively discussion about strategies, projects, and resources that will contribute evidence and best practices.
Following are highlights of the meeting (see streaming video).
Understanding the need for research on open scholarship
Kristen Ratan, ICOR's co-founder with Sarah Greene, described our research-on-research efforts thus far and ongoing works to curate a library of projects offering "solutions" that facilitate open research. The goal is to move from a fractured landscape to a community-based effort to develop standards and best practices, as well as analytical skills to draw conclusions and learn from real-world implementations.
Chris Bourg, Director of MIT Libraries and Founder of CREOS
MIT's Center for Research on Equitable and Open Scholarship (CREOS) is collaborating with ICOR to develop a Fellows and Leaders in Open and Equitable Scholarship (FLOES) program to analyze and further develop open science practices and initiatives that are already underway. FLOES will play matchmaker between research initiatives seeking an evaluation plan and scholars who can strategize and conduct that research.
Angela Bednarek, Director of The Pew Evidence Project
Pew is creating a platform for networks innovating how research is produced, mobilized and used. One stream of innovation is opening up the research process to make it much more inclusive, participatory, engaged, and open. Two networks being supported are the Transforming Evidence Funders Network (interest in inclusivity and building evidence base) and the Shared Systems Analysis Network (how to make it more enabling to take on this work and how to build capacity).
A few experiments and projects underway
Fiona Hutton, Director of Publishing, eLife
eLife's ambitious new publishing model and its early results were described, as detailed on their blogpost eLife's New Model: Initial three-month update. Early data since launch (Jan-Apr 2023) show a steady number of submissions and strong interest in exploring/publishing under this new model. Another update will be presented in six months, with a much clearer picture of the geographic locations of author submissions and their subject areas.
Iain Hrynaszkiewicz, Director of Open Research Solutions, PLOS (slides)
PLOS has developed the Open Science Indicators project to provide funding agencies, policy makers and institutions much-needed tools that measure open science and understand the impact of such practices. Questions include what authors are sharing their findings, how they differ between groups, and how to identify and co-create better solutions to eventually share globally
Thus far, PLOS partnered with DataSeer to measure data and code sharing (and code generation), preprint posting, and protocol sharing. Results show a steady increase in open science practices. The dataset is publicly available and updates will be available quarterly.
Ashley Farley, Program Officer, Knowledge and Research Services, The Bill & Melinda Gates Foundation
The Gates Foundation's open access policy, implemented in 2015, may undergo future iterations as they assess covering reasonable costs for APCs. In partnership with the START Center (Strategic Analysis, Research and Training Center) at the University of Washington, the foundation seeks insights into the economics of scholarly publishing, using placemats to facilitate and drive conversations and understand trends. The resources linked here are available under a CC-BY license for anyone to use, build upon or adapt.
Kristin Eldon-Whyly, Senior Program Manager, Change Management Lead, Templeton World Charity Foundation (TWCF) (slides)
TWCF has developed a unique approach to open research termed "structural adversarial collaboration" that is being piloted in their Accelerating Research on Consciousness initiative (see schema below). The focus is on two prevailing theories in consciousness research – the Global Neuronal Workspace (GNW) and the Integrated Information (IIT). Instead of providing funds for competing groups to research their theories independently, then debating findings post-publication, this new approach employs open collaborative processes to determine whether experiments can be designed for testing the theories in a single study. Theory leaders are listed as co-authors of the pre-registered research and study protocols, with replication of findings across all labs; final publication would include a registered report and open and FAIR data.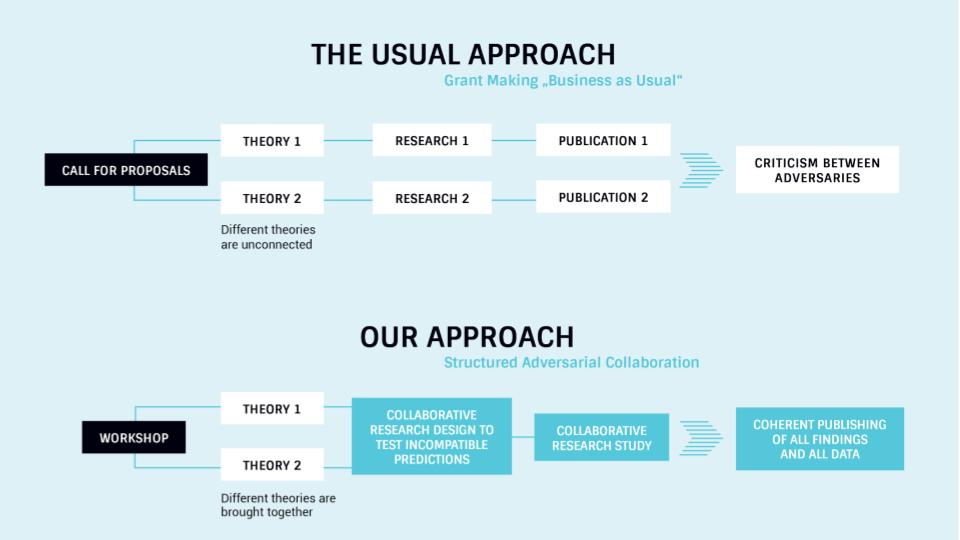 The first set of published results will be available this summer when it will be revealed whether there is one less plausible scientific theory explaining consciousness.
Building a community library of resources and best practices
ICOR is building a Library that includes projects, policies and efforts currently underway in different areas (see "Project Library" on the ICOR website). We invite you to register your projects via Submit Your Project to share key details in the Library. At our inaugural public meeting, attendees shared several excellent projects and resources to a growing community list intended to inform and unify projects in this domain. Please add yours!
---
Register for the next ICOR Public Meeting on July 20, 2023, 10:30am-12:00pm ET.
Agenda and other details to come.